January 2, 2013
New York, N.Y.
The Metropolitan Opera has revived their production of Hector Berlioz's exuberantly audacious Les Troyens ("The Trojans") and I'd really like to see it. But I've spent most of 2012 writing a book for peanuts, and I'm flat broke. I'll either be buying tickets in a section of the opera house requiring oxygen tanks, or taking advantage of something I've never tried before: Rush tickets.
Rush tickets are so called because they go on sale on the day of the performance just two hours before curtain. For most Monday, Tuesday, Wednesday, and Thursday evening performances, the Metropolitan Opera makes available 200 orchestra seats — 50 for seniors and the rest for us young folk — for $20 apiece. These are seats that normally cost in the triple digits. Only two tickets are allowed per customer.
But the actual process of getting rush tickets is anything but. The catch, of course, is that you can't just show up two hours before curtain and expect to snag a couple tickets. A line begins forming some hours before. But what's a safe time to join that line? That is the crux of the problem!
The issue is complicated by Les Troyens itself. This is one of the longest operas in existence not composed by Richard Wagner. It's about four hours of music spread over five acts, and with two intermissions, the total run time is about five hours. Les Troyens does not have a normal curtain time of 8:00 PM, or even 7:00 PM, but instead starts at 6:00 and gets out after 11:00. This means that rush tickets go on sale at 4:00.
Would a New Year's Day performance of Les Troyens attract a bigger rush for rush tickets because people aren't working? Or do people not even think about going to the opera on a holiday? Are the huddled masses who can't afford regular priced opera tickets more inclined to see Les Troyens because of its strange (and certainly well deserved) reputation? Or does the long run time and that reputation actually scare people away?
I normally err on the side of caution, and I want to guarantee that Deirdre and I will be sitting in the orchestra section watching Les Troyens on New Year's Day. I decide that I'd be willing to spend four hours waiting for tickets. So this is how I find myself on the morning of New Year's Day getting dressed for the evening opera. (But this is not a big deal: It means black 505's rather than blue 505's, a white dress shirt, tie, and sport jacket.)
11:15 AM — I leave my apartment, and take the R and 1 trains to Lincoln Center.
11:45 AM — I arrive at the waiting area for Metropolitan Opera rush tickets. It's down in the lower parking-garage level — close to the foot of the stairway going up into the Metropolitan Opera lobby near the box office — but it's surprisingly classy. The waiting area is enclosed by glass walls, protected from the cold winds blowing through the underground, and toasty warm. There are several benches available. When I arrive, only two people are here. I am third in line. All I have to do is wait, and Deirdre and I will be seeing Les Troyens this very evening!
Although it's rather dark, I've brought some reading material: Sarah Ruden's acclaimed translation of Virgil's The Aeneid. In a well-known passage from Berlioz's 1854 memoirs, he tells of reading the Aeneid in Latin as a youngster under his father's tutelage, and becoming emotionally distraught at the death of Dido, hiding from all the adults "to indulge my Virgilian grief."
1:15 PM — In the past 20 minutes, five more people have joined the line. I've brought a blow-up seat pad and alternate between sitting on the bench, sitting against the wall, and standing.
Virgil wrote the Aeneid over the last 11 years of his life, and he only finished 12 of the projected 24 books by the time of his death in 19 BCE. The poem concerns a founding myth of Rome — how Aeneas (a son of Venus) and his fellow Trojans escaped the city of Troy after its fall to the Greeks in the Trojan War (which Virgil and his contemporaries believed to have occurred about 1200 years earlier), and how these Trojans came to found Rome. The Aeneid conveniently confirms the ancestry through Aeneas of Julius Caesar, whose assasination took place about 15 years before Virgil began writing his epic.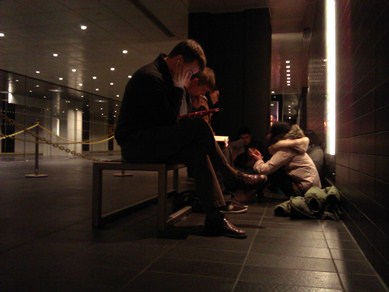 Behind me on the line
2:00 PM — I guess there are about a dozen people now. It's a very relaxed atmosphere, and if people need to leave the line for a little while — bathrooms are just outside the enclosed area — they simply leave their stuff to mark their spots. The woman in front of me has gone out for coffee, and the guy who heads the line disappears for long stretches of time. But one woman has announced that she personally will not tolerate anyone who joins a friend already in line in expectation of getting two additional tickets. Such a person will need to go to the back of the line. "It's only fair," she says, and nobody argues with that.
Berlioz seemed to have become obsessed with writing a large opera based on the Aeneid in the early 1850s. He finished the libretto in 1856, and the entire mammoth work in 1858. (That's about the same time as Wagner's Tristan und Isolde and Verdi's Un ballo in maschera.) The opera is in two parts: The first two acts take place in the last days of Troy, and are based on a "flashback" sequence in Book 2 of the Aeneid, but Berlioz greatly expanded the role of Cassandra, who prophesizes the fall and who leads the Trojan women in refusing to submit to the Greek invaders. Then follows Part 2, three acts in Carthage where Aeneas's ships land on their way to Italy. This is the famous love affair between Aeneas and Queen Dido, taken mostly from Book 4 of the Aeneid but with a little from Book 1.
3:00 PM — On a trip to the bathroom, I count about 35 people. Everyone is surprised that the line is this short. I wonder if there's anybody I can call and say "Hey, get your butt over to the Metropolitan Opera house now and score two orchestra seats for tonight's five-hour performance of that crazy Les Troyens opera for $20 each." But I can't think of anyone.
Berlioz knew that he had composed a monster in Les Troyens. The first opera house that attempted to stage it lopped off Part 1 entirely, and made cuts to Part 2, and then the score was published with those cuts! Later on, it became common to perform Parts 1 and 2 on successive evenings. It wasn't until 1957 that nearly the entire opera was performed in French on a single evening, but in the years since — and particularly after music scholar Hugh Macdonald's critical edition of the score in 1969 — these days Les Troyens is usually performed complete in all its excessive and overwrought glory.
3:30 PM — A Metropolitan Opera guy from upstairs tells us to begin gathering our stuff. We form a single file and head up the stairs into the lobby, where we assemble into a tight back-and-forth line, just as if we're waiting for the box office to open. And we are. It now appears that there are 60 to 75 people, and 75 is the maximum if everybody gets two tickets. Do some people drop by around this time and check out the line in the lobby before making a decision? If I lived in the neighborhood, that might be my strategy.
4:00 PM — Multiple box office windows open simultaneously and the distribution begins. "How many do you need?" the guy asks. "Two," I say. "Forty dollars," says he, and he puts two tickets in an envelope in exchange for the bills. There is no discussion about location, availability, "do you have something a little more towards the center?" etc, etc. After the long wait, it's very fast.
My tickets are in row Q, which is a little beyond the halfway point of the 31-row orchestra section. The seats are 18 and 20, about the center of the right section, which I believe is just on the cheap side of the boundary line between seats that normally go for $235 and those that cost merely $160.
4:20 PM — Deirdre has been home all day being productive, and has just walked the five miles from our downtown apartment. We meet for a very early dinner at P.J. Clarke's, conveniently located just across Columbus Avenue from Lincoln Center.
5:30 PM — The doors open in the opera house. We find our seats and we are nodding "Yes. Nice. Very happy." The only disappointment is the illness of Susan Graham, who was supposed to sing Dido and who is being replaced for this performance by Elizabeth Bishop. But the other star in the cast — Deborah Voigt as Cassandra — will be appearing as scheduled.
6:00 PM — Curtain time! Turn off your cell phones! Soon conductor Fabio Luisi enters and takes his place in the orchestra pit. The curtain rises, and the overture begins with the most incongrously bubbly flute-heavy French music imaginable. But of course: The city of Troy has been besieged by the Greeks for ten years, and finally, unexpectedly, their armies have left. Peace is at hand for Troy, and the joyful.chorus sings "Ah! what delight to breathe the pure air of the fields, which will never more be rent by the noise of battle."
The only real puzzle is the giant wooden horse left behind outside the city gates, and which will soon roll across the Metropoltitan Opera stage.
What could it mean? The prophetess Cassandra has some insights, but she's a crazy alarmist and nobody believes her....