This is our third summer at Deirdre's house in Roscoe, N.Y., a one-traffic light hamlet in the Catskills with a triple-digit population. When the intersection at that traffic light was flooded two years ago, the locals called it a "once in a lifetime" thing. It happened again last year, and then again yesterday.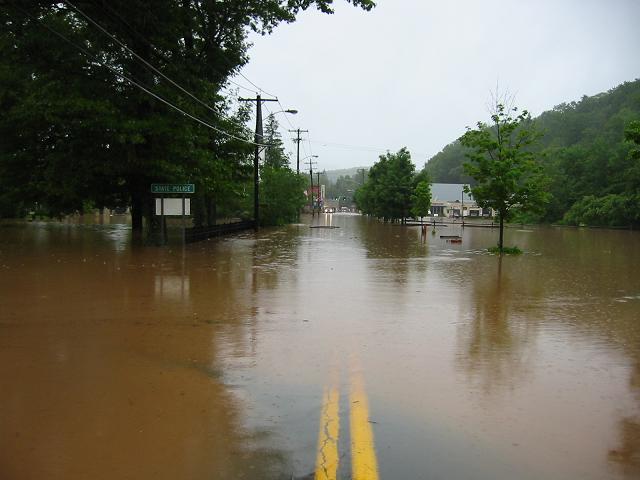 You're looking west on "Old Route 17" (now called 179), just west of the famous Roscoe Diner, and you can see the traffic light on Stewart Avenue in the distance, and a flooded cemetery to the left. The actual Route 17 (a.k.a. the "future Interstate 86") was closed near us, leaving us pretty much marooned. It's been raining a lot in the Mid-Atlantic in the past few days, with lots of flooding all over. Of course, this isn't nearly as bad as some places, and the intersection is passable today.
The southwest edge of Sullivan County is bordered by the Delaware River, but that's about 15 miles from us. Our troublesome rivers are the Beaver Kill and the Willowemoc, which has here partially flooded over Old Route 17 going east from Roscoe. We walked from the house to this spot.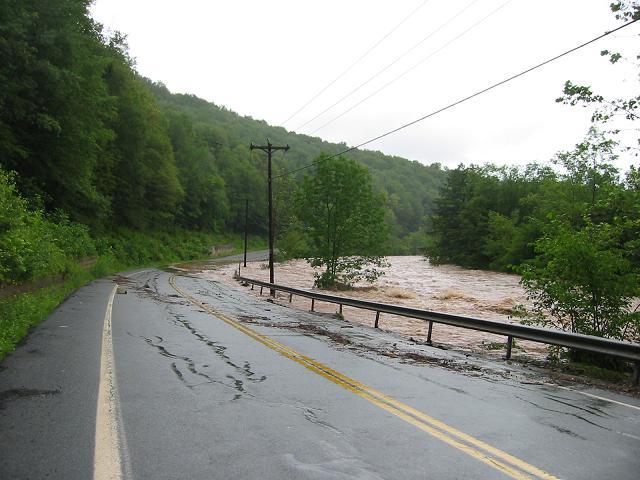 The Willowemoc is normally a quiet fly-fishing spot. (Roscoe is known as Trout Town, USA.) But yesterday it was muddy and turbulent, as seen in this short movie Deirdre made with her digital camera. That's me performing my civic duty in removing a board from the middle of the street during a lull in the rain.
Deirdre's house is on the side of a hill, so the only problem we have with the house are streams going through her garden and some of the water getting into the basement. Other locals weren't so fortunate. This aerial photo from the NY Times says that it's "near Roscoe", but Deirdre thinks it's near North Branch. (This photo is also on the cover of the print edition today.) The next photo in the slide show is the main drag of Livingston Manor, which is the next hamlet east from Roscoe.