Key of C#
A simple integrated development environment for C#
Key of C#
is a simple editor and one-key compiler for writing programs using the C# programming language.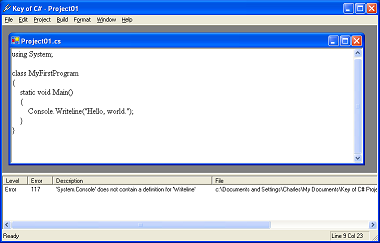 The program runs under the Microsoft .NET Framework 1.0 or higher. It's use is described in the book
Programming in the Key of C#
(Microsoft Press, 2003) and in the included Help file.
Key of C#
is free.
Download Key of C# Version 1.1
After starting the download, select
Open
or
Run
to install the program now, or
Save
to download and save the program but install it later.

© Charles Petzold, 2005
cp@charlespetzold.com
This page last updated January 2005